We have moved for our summer tours! Tagish Lake Kennel will be at Kilometre 74.5 on the South Klondike Highway, we will offer the same great tour along with our beautiful friendly puppies. Spend an afternoon with Michelle Phillips and her Iditarod and Yukon Quest sled dog team at our new location for a for a summer tour. Michelle and other Tagish Lake Kennel you'll experience the real deal: professional mushers running veteran race dogs.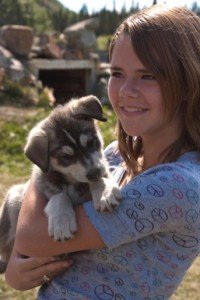 There's nothing like a yard full of dogs leaping and howling with excitement as they're hooked up to a wheeled cart before running. They'll pull you down the path faster than you imagined possible.
While you're there, visit the irresistible husky puppies that await you beside an authentic log cabin that doubles as a self-guided interpretation center focused on sled dogs and their critical role in Yukon history. Visitors are encouraged to cuddle the puppies and take photos with them. It's from these litters that future Iditarod and Yukon Quest team members are chosen.
Hear tales from the racing trail. Professional sled dog mushers offer talks on the equipment used in long distance races. See the sleds and other gear, much of which has been used in actual races such as the Yukon Quest and Iditarod. Try on an authentic Arctic parka and stand behind the sled. Imagine yourself on the trail running toward Fairbanks or Nome, Alaska– 1,000 miles and 10-12 days away!
"My family and I were on a shore excursion from Skagway when we visited Michelle Phillips and her crew. By far our favorite part was visiting with the dogs! We loved meeting Michelle, meeting Geisha who we had seen on TV, playing with the puppies – what a fabulous experience." –Laurie
There are two types of summer tour packages available: (Special discounts for groups)

Summer Cart Tour: 1-2 mile cart ride with our canine athletes pulling you along in a wheeled cart 15 minute talk with a gear demonstration and cuddling with our cute husky pups .

$38.50 Adults

$25 Children

Visit to Our Puppy Yard: $5
If you'll be arriving in Skagway on a cruise ship, several tour companies offer excursions into the Yukon For more information, see Beyond Skagway Tours, or TnT Tours..
Read about Michelle and the cart rides at Caribou Crossing in the Viator Travel Blog
Contact Tagish Lake Kennel for more information or make a reservation.